This space is held for (the short version) announcements and any news worthy notations.
____________________________________

If you see missing pictures or links, bare with me! Slight changes in the works.



This work is licensed under a
Creative Commons Attribution-NonCommercial-NoDerivs 3.0 Unported License
.

It is with a heavy, and broken, heart that I bring this news.  I found out myself a few months ago, but we were in mourning for Dan at the time, and he deserved to be mourned in peace.  
The person who played JonLouis, and a few other characters, has passed.  He suffered a heart attack after learning that his best friend died in the Paris bombing.  It took his family this long to contact me because he had no system of filing information that made any sense to anyone but himself.  According to his aunt, once they were able to deal with his belongings, they had to start going through boxes of papers and things just to find his email addresses and pass words and such.  Then, once they got into his email, the one email they found for me was one I almost never check because of the amount of junk it gets on a daily basis.  
Here's the original email that brought about her letting us know, I say us because she tried to contact Angela as well.  I'm sorry I couldn't tell you all sooner, but it was very hard for me to face and I avoided the emails once she and I finished talking.  I still had some love in my heart for him, even though we had become just friends, and that didn't change when he got mad at me and stopped speaking to me for a long time.  So I needed to deal with my pain before I could make this post.  I'm sorry if that seems selfish.  I didn't mean for it to.  And I'm sorry if this news brings any of you sadness.  But you all had a right to know.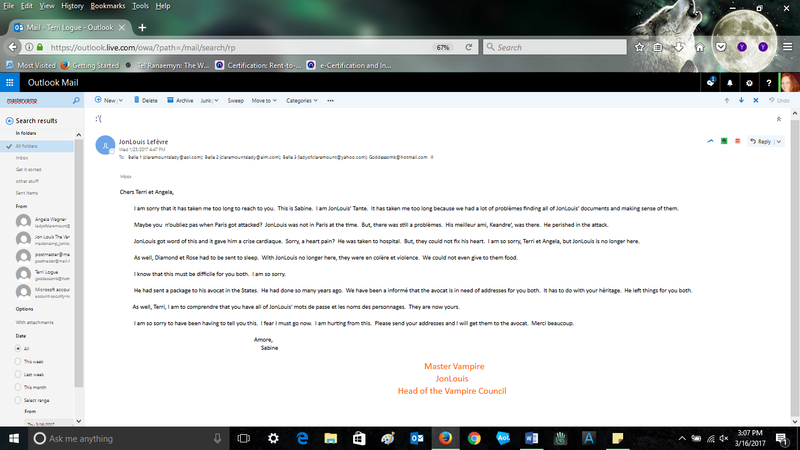 Number of posts

: 69


Joined

: 2012-04-05


Age

: 341


Location

: Rhy'Din




May his spirit, and those affected by the news, find peace and rest.





Number of posts

: 185


Joined

: 2008-11-17



Thank you. I'm sure he's looking down from Heaven thinking "Merci Beaucoup Ange."



Number of posts

: 69


Joined

: 2012-04-05


Age

: 341


Location

: Rhy'Din




---
Permissions in this forum:
You
cannot
reply to topics in this forum